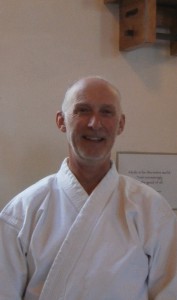 Recently I watched a TED talk by social psychologist Amy Cuddy called "Your Body Language Shapes Who You Are".  Her research is in body language, and one of the most important elements is the "power pose".
Essentially one of the most common power poses is that of being "opened up".  We see it in people and animals naturally … Mick Jagger and any creature displaying to attract a mate come to mind.  Another is the "pride" pose.  You see it in any successful athlete after they have achieved something.  Amy Cuddy illustrated her talk with a shot of Usain Bolt crossing the finishing line with his arms flung wide.  Interestingly, even the congenitally blind will adopt the pride pose without ever having been taught it.
Politicians are taught to do it, and that's why so often it looks unnatural ; compare George W. Bush and his chopped, little moves to the easy expansiveness of Barak Obama.
Alternatively, in low power positions, when people or animals are feeling helpless, they close up.  They wrap their arms around themselves, cross their legs and close themselves off from others.
In a given interaction, one participant will adopt the high power pose and one the lower.  One will be open, the other closed.  One will be in charge.  The other won't.
Research has already shown that non-verbal communication affects how other people perceive you and feel about you.
What made Amy Cuddy's talk so interesting is she proposed the alternative theory: that the pose we take can change how we feel about ourselves.  She and her colleagues had subjects assume either high power or low power poses for two minutes.  They found that the testosterone levels of the "high power" posers rose 20%. Testosterone levels for the "low power" group, meanwhile, fell 10%.  Testosterone is one key chemical for "power." The other is cortisol. When cortisol levels drop, people are better able to handle stressful situations. After the 2-minute poses, the cortisol levels of the "high power" group fell sharply. The cortisol levels of the "low-power" group, meanwhile, rose.  This meant the high power posers were more likely to take risk than the low power posers.
Effectively, our bodies change our minds.  So the question arises: can power posing for a few minutes change the way we feel about ourselves?
Further experiments by Amy Cuddy and her colleagues demonstrated that if interviewees power posed before a (mock) interview the interviewers felt more positive about them to the extent that what they actually said in the interviews was irrelevant. It was all about "presence."
So, our bodies change our minds, our minds change our behaviour and our behaviour change outcomes for us.
I think that is a fairly accurate précis of Amy Cuddy's theory, but I recommend you listen to the whole twenty-one minute talk, which can be found on TED talks and YouTube.  It is an interesting reversal of our understanding of man's psyche, which is how we feel inside is reflected in what we show outside.  The whole of psychiatry is based on treating the inner man.
Amy Cuddy is saying that changing the outer man (or woman) will change the inner.
I got quite excited about how it reflects what we do in aikido.
Among of the first things we learn, and teach, are the basic postures of migi and hidari kamae (left and right stance). When you watch beginners, if you are a beginner or if you can remember being a beginner yourself, you will see how intimidating receiving that first attack is – the head drops, the feet shuffle, and the body tends to leap excessively to the left or right out of the line of attack.
As we become more confident in our aikido, the posture becomes better, deeper with no leaning forward.  We find ourselves now not only ready for the attack, but almost inviting it, welcoming it.
So Migi and hidari kamae are power postures – the body is balanced and upright, but relaxed; the hips are forward facing; the shoulders are relaxed; the hands guarding our own centre line, but also threatening uke's.  From this still, relaxed posture our spirit projects forward.  Adopting them when we are practising doesn't only improve our technique, but also makes us feel better, stronger and more in control.  And this in term feeds back into our technique, in a continuous circle.
It was said of Morihei Ueshiba that he could adopt a stance which presented no opening that allowed any form of attack.
Consequently, the stories of him getting ukes to attack him in the dojo when he was demonstrating without specifying the attack seem to be related to whatever opening he chose to reveal – a shoulder, his wrist, or his head.  It was assumed to be his ability to control other people's minds, but it was actually his ability to control his own body.
This is surely the ultimate power pose, and something we can all aspire to, even if we're more likely to be showing all the openings most of the time!
O'Sensei himself said in his book "Budo" published in 1938 that the basic stance was to "open your feet to the six directions [north, south, east, west, up, down] … the complete kamae [posture] is what arises from where the gods lead you, depending on time, situation, the lie of the land, the spirit of the moment – kamae is what is in your heart."
This seems to reflect what Amy Cuddy is saying.  There is no difference between your mind and body.  They are one.  Which accords nicely with Koichi Tohei's Four Principles:
Keep the one-point (seika no tanden)
Relax completely
Keep the weight underside
Extend Ki
Tohei sensei offers two concepts which are mental (keeping the one-point and extending Ki) and two which are physical (relax completely, keep the weight underside).  Achieving any one of these will also achieve the other three.
So when people ask why you practise aikido, you now have another answer:
It helps me get jobs!