Mens Sana in Corpore Sano – by Mark Peckett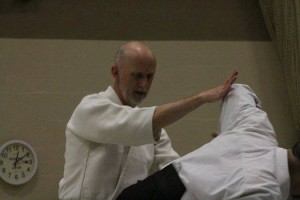 In a previous blog I talked about the importance of the stability of the head.  That is, maintaining the stability of your own, and de-stabilising that of your uke's. There is a nice image used in tai chi.  You must think of your legs and pelvis as a table, and your upper body as a precious vase full of water resting on that that table.  The object is not to spill the water from the vase.
Morihiro Saito shihan believed that the basis of all empty-handed, sword, and staff techniques was the mastery of aikido's basic posture (hanmi).  In his book "Aikido", the previous Doshu, Kisshomaru Ueshiba states that all the flexible and natural movements of aikido originate from correct posture.
He writes interestingly hidari (left) and migi (right) hanmi. "The entire body should be flexible without tension and ready to counter any changes.  In Aikido when you assume this position, your body needs to be in sankakutai (triangular form).  (An equilateral tetrahedron is the most stable form, and one which changes into a sphere when turned.)" Standing in a triangular stance, you have a stable yet flexible base to move from.
Obviously, in the end there are no stances in aikido, as you are in continuous motion, but in order to learn the principles and techniques it is necessary to learn from static forms. So you have a relaxed stance, knees slightly bent and weight evenly distributed between the feet.  You are balanced.
This is external or physical balance, which could be characterised as relaxation in the body and a lowering of the centre.  This stability on the outside should reflect an internal balance.  On the inside there is a quietness in the mind and a stillness of the emotions which means that the mind is open and receptive, able to receive the attack, blend with it and return its energy to uke.
There is an interesting passage on this in a book called "Living Aikido": This scenario holds true for all practices … It is a good practice to study a technique and find the points were uke is soft and nage [thrower] is soft, where these roles begin to shift, and where they are fully reversed.  What is important is to maintain the balance of positive and receptive between partners within the technique.
It is interesting to note that the word "receptive" is used  as the opposite to "positive" rather than the more common "negative".  I think that receptive is a more accurate translation of the concept of "yin" in the famous Taoist "yin-yang" symbol. A stable base thus becomes that from which all things are possible.  It is infinite.
Now this must apply equally to uke – again, it is interesting that the word "uke" derives from the verb "ukeru" which means "to receive".  A good attack must be made from a stable base.  For example, if the attack is tsuki (punch), then it must be made with intent and energy in order that tori can practise their technique; if the punch is weak and does not even make contact, or is actually aiming to miss, or if the attacker over leans, on these occasions, the attack is very yin and has no value.
Linda Holiday, chief instructor of Aikido of Santa Cruz, and direct student of Motomichi Anno sensei, teaches that throughout the technique uke should continue to maintain a connection with tori by trying to keep their centre connected with the person throwing them.
This is not to say that they should actively resist the technique, but rather that they should turn towards tori rather than away from them.  This reflects the understanding of the word "uke" as "receiver" or "receptive."  It is very difficult to receive something from or be receptive to someone or if you turn away from them.
Terry Dobson's book "Aikido in Everyday Life" (which when it was first published in the 1970s was given the less attractive, but more self-help style title "Attack-tics – the Art of Giving in to Get Your Way") addresses the same issue of inner balance. He applied the principles of aikido to the conflicts we experience around us all the time.
Usually they are not life-or-death, but our body through the autonomic "fight-or-flight" reflex behaves as though they are, and we automatically go into full-on confrontation mode instead of handling those conflicts in a way that is positive, humane and mature.
If you treat a friendship, job or marriage like a contest, and try to score points until your friend, colleague or spouse admits defeat you might win in the short term, but the long term damage to the relationship may prove to be a loss.
Not all conflicts are a zero-sum game where one side wins by making the other side lose. To some extent the writing reflects the psychoanalytical approach which was prevalent in the 1960s and 70s; the ideas of Freud, Jung and Adler that problems could be solved from the inside out.  People came to them with physical symptoms which were regarded as external manifestations of their inner problems.  Solve these internal conflicts and the external problems would go away.
I would suggest that working on stability in the body, an upright posture but relaxed posture, with a lowered centre and attention paid to the breathing can have a calming effect on the mind and emotions. To explain the title to this blog: the Latin phrase "Mens sana in corpore sano" is usually translated as "A healthy mind in a healthy body", but sometimes as "sound mind" and "sound body". Sound in the sense of "whole", or mind and body as one.
So next time someone irritates you by asking that tired old question "Yes, but have you ever used aikido in real life?" you should breathe, find your balance and say "I'm using it now."